6 Suites for Cello Solo BWV 1007-1012
Urtext edition with articulation markings - Soft-cover performing edition.
When you think cello, you think of Bach's immortal cello suites.
The suites take centre stage in the cello literature. They are timeless and beautiful and accompany cellists from their student years up through their professional career at the highest level.

Appropriately and not surprisingly there are countless editions of the suites. But the composer's autograph has not come down to us. It is lost and this circumstance has always been a major challenge for editors. The four surviving handwritten sources and the original first edition of 1824 differ in many details, the articulation and phrasing being particularly ambiguous.
At Bärenreiter, having published the New Bach Edition and presently publishing the New Bach Edition-Revised, we feel particularly committed to the cello suites. We have approached the editorial problems from several angles and have published editions that meet the needs of students and professional performers alike.
This new edition, based on volume 4 of the New Bach Edition Revised (NBArev), now completes Bärenreiter's collection of the cello suite editions. Andrew Talle has fundamentally reassessed the relations between the surviving sources and has drawn conclusions regarding their evaluation and consequently the genesis of the suites. His evaluations are augmented with thorough discussions of the instrument for which the suites were conceived and the interpretative practices in Bach's day.
The musical text of the edition is based on these findings. It approaches the composer's original intentions as far as the sources will permit. Details regarding articulation were deemed as being viable and were added to the musical text if they appeared in the majority of the sources. This edition does not present a perfect reconstruction of the lost autograph; no editor could claim to do so. Instead, I have attempted to provide musicians and scholars with a reliable version of the surviving musical text of the six cello suites and to shed light on the options which the Bach sources offer."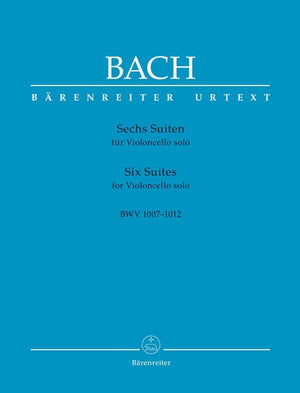 Bows for Strings ships all products Australia-wide using Australia Post and our network of couriers for larger items.
Getting your new instrument or musical accessories to you as quickly and as safely as possible is our priority.
Standard parcels ship via Australia Post, and we offer
free shipping for orders over $75
(standard cost is $10). Orders are fulfilled within 3 business days. Standard delivery times are 3-5 days.
All instruments
are professionally set-up by our workshop, and so fulfilment times for instrument orders are longer (
please allow up to 2 weeks
currently). Read more about our professional set-up
here
.
Want to get your order as fast as possible?
We also offer an express post option which you can select at checkout. Items are sent via Australia Post Express and typically arrive in 1-2 days after your order has been fulfilled.
Larger items such as cellos and large cases require extra care and incur a
separate handling and delivery fee of $75.
Double Basses sized 1/4 also incur a
separate fee of $125
, and 1/2 and 3/4 Double Basses
a fee of $225
. These items are not applicable for free shipping.
When ordering larger items to remote locations, or when ordering multiple larger items, there may be an additional delivery cost involved.
If you would like to discuss the postage of your item, please don't hesitate to contact us at orders@bowsforstrings.com.
Click and collect:
Bows for Strings offers the option to 'click and collect' your order at our Glen Waverley showroom. Click and collect items are typically ready within 1 business day (instruments require professional set-up and are typically ready within 2-3 weeks currently due to back to school demand). If choosing this option you will receive an email when your item is ready to pick-up.
New Zealand Shipping:
We are pleased to offer international shipping to New Zealand! Shipping is currently available for violins, violas, strings and accessories - stay tuned for cellos and double basses. Shipping costs are based on weight and are calculated at checkout - smaller items such as strings or books cost $20, larger items such as a violin or viola cost $35. If you would like a heavier item (cello, double bass, etc) shipped to New Zealand, please contact us for a quote. Delivery typically takes 7-10 days, and fulfilment times are the same as listed above.