Kun Original Shoulder Rest - 1/2-3/4
The Kun Original 4/4 Violin Shoulder Rest is a great option for violinists looking for a shoulder rest that is simple, comfortable and lightweight.
Kun shoulder rests have been the shoulder rest of choice for many violinists and violists over the last 40 years, with one of the company's core values being that acoustic qualities of a rest are as important as comfort.
The Kun is often chosen as one of the more comfortable rests, with its classic, slender design and foam padding, however it is equally chosen for its acoustic properties and this is due to the lightweight materials used and the thin, over-moulded rubber feet that have minimal contact with the instrument.
Heavier shoulder rests and shoulder rests that have a lot of contact with the violin can affect the resonance of your instrument however, the Kun has been designed to minimise this.
The 4/4 and 1/2-3/4 Kun rests have the ability to be adjusted in three directions (height, width and tilt), unlike the Everest which has a fixed tilt design and can only be adjusted in height and width. This is one of the reasons why some musicians prefer the Kun. The other being that the Kun offers better acoustic qualities than the Everest.
Features:
Can be adjusted in three directions: height, width and tilt.
Overall shape and curvature of the rest suits around 95% of players.
Thick foam for comfort – 8mm.
Over-moulded rubber feet that minimise contact and protect your violin.
Two feet are included – short (14mm thread length), long (20mm thread length).
Adjustable – Unscrew feet brackets and select alternate positions for best fit to the instrument.
Extra height can be achieved by swapping out the regular feet for extra-long feet.
Kun Original is available in three sizes: 1/8-1/4, 1/2-3/4 and 4/4 (Kun Mini Collapsible will do 1/16-1/4).
Weight: 58g
Dimensions (cm):
Body Length – 19 (foam covers entire length)
Body Width – 2-3
Height (feet screwed in completely) – 5.2 (high side - chest), 4.8 (low side - shoulder), 3.8 (dip)

Feet width: 6.8cm
Choose 'click-and-collect' to have your shoulder rest fitted for free in our showroom.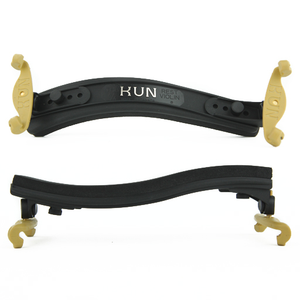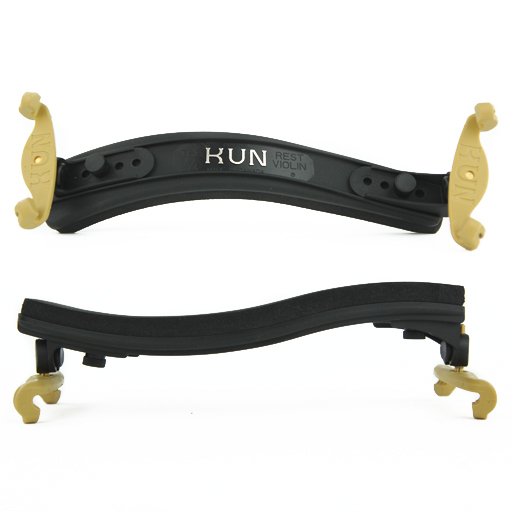 Bows for Strings ships all products Australia-wide using Australia Post and our network of couriers for larger items.
Getting your new instrument or musical accessories to you as quickly and as safely as possible is our priority.
Standard parcels ship via Australia Post, and we offer
free shipping for orders over $75
(standard cost is $10). Orders are fulfilled within 3 business days. Standard delivery times are 3-5 days.
All instruments
are professionally set-up by our workshop, and so fulfilment times for instrument orders are longer (
please allow up to 2 weeks
currently). Read more about our professional set-up
here
.
Want to get your order as fast as possible?
We also offer an express post option which you can select at checkout. Items are sent via Australia Post Express and typically arrive in 1-2 days after your order has been fulfilled.
Larger items such as cellos and large cases require extra care and incur a
separate handling and delivery fee of $75.
Double Basses sized 1/4 also incur a
separate fee of $125
, and 1/2 and 3/4 Double Basses
a fee of $225
. These items are not applicable for free shipping.
When ordering larger items to remote locations, or when ordering multiple larger items, there may be an additional delivery cost involved.
If you would like to discuss the postage of your item, please don't hesitate to contact us at orders@bowsforstrings.com.
Click and collect:
Bows for Strings offers the option to 'click and collect' your order at our Glen Waverley showroom. Click and collect items are typically ready within 1 business day (instruments require professional set-up and are typically ready within 2-3 weeks currently due to back to school demand). If choosing this option you will receive an email when your item is ready to pick-up.
New Zealand Shipping:
We are pleased to offer international shipping to New Zealand! Shipping is currently available for violins, violas, strings and accessories - stay tuned for cellos and double basses. Shipping costs are based on weight and are calculated at checkout - smaller items such as strings or books cost $20, larger items such as a violin or viola cost $35. If you would like a heavier item (cello, double bass, etc) shipped to New Zealand, please contact us for a quote. Delivery typically takes 7-10 days, and fulfilment times are the same as listed above.